Website Development Services
CyberWolf Solutions is the most sought after Web Development Services Company with a skilled team of web developers. We provide one of the leading website development services in Sri Lanka.
We understand that the website is the trademark of every online business. Each of our projects is built after careful consideration of our dedicated developers and their expertise in website development services techniques.
We use our unique techniques for a professional web development process. And we also take our responsibility to provide our customers in various industries to achieve measurable results and fast internet sales too.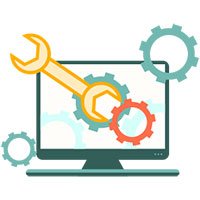 Custom Website Development
With the internet becoming the most common and easily accessible service these days. So it's time to build or update your website and you want it to start from the pack. Your business has unique characteristics and your website should have a look and feel that's representative of your brand.
Ecommerce Website Development
We offer top-notch e-commerce web development services with the best development plans catered to every client's requirements. We ensure your e-commerce website development solution helps deliver a  comprehensive and effective e-business strategy, products and marketing tactics, design and usability, technology and security.
Developing a website becomes a major requirement nowadays to promote a business on the internet. PHP programming is one of the Languages mostly commonly used for Website and Web Application development. PHP is a server-side scripting language that allows the client to receive output on the processing that happens within the server. PHP as a web development option is a secure, fast and a reliable option.
Static Website Development
A static website designing is the simple way to display your business or product online. The content to be presented can be in the form of services and products or maybe information regarding your company concerns. While designing your static website.you need to keep a few things in mind like the color of the design, elegance and match it to suit your business grounds.